Hello beautiful friends, hope all of you are doing well and happy. 2022 wedding seasons are coming soon. Are you planning to be the future bright of this year? Then you deserve a gorgeous engagement party with a standing engagement bridal look. Do you feel too nervous and confused about the look? Don't worry darling we are giving you marvelous engagement saree ideas for your dream engagement party look. Just stay with us to pick your best engagement bridal look and be ready to rock the party.
Find Here Beautiful Engagement Saree Ideas For Your Next Wedding Events
1. Be the Best Bride with Banarshi Silk Sarees:
Obviously, as a beautiful Indian woman, you love the traditional look. So create want that for your engagement party. You can choose Banarasi silk sarees instead of the original Banarasi as these are lighter in weight. But the Zari work looks like the original Banarasi. These saree collections include lots of light to bright colors and all are equally gorgeous. Engagement look with these traditional saree collections will indicate that you were the queen of this engagement party. Finish the look with white flowers on your hair.

2. Traditional Bridal Look with Kanjivaram Silk Sarees
Do you love the traditional look but want another option instead of Banarasi sarees? We have the solution for you. We can show you a huge collection of Kanchipuram/ Kanvivaram sarees. These are equally gorgeous as the Banarasi saree but with minimal zari work on the border. Different colors are available so you will get several options to create your traditional engagement bridal look. Do not forget to add flowers to your hair to complete the look.
3. Get the Sparkling Engagement Look with Sequence Sarees
If you want to create a different but sober and stylish bridal engagement party then see our sequence engagement saree ideas. Sequence Sarees are trending. With a designer blouse and sequence saree, you can create a stylish modern but Classic look. The best part of the sarees is you do not have to do heavy makeup. With these sarees and minimalistic eye and lips makeup, and jewelry you can rock the engagement party as a stylish bride.
4. Beautiful Engagement Look with Chiffon Embroidery Sarees
You can consider this saree collection as your engagement party wear. These embroidery sarees will provide you with a different look including both traditional and trendy. These sarees are highly manageable than heavy work sarees or lehengas. With these pleasant look sarees, you can enjoy your engagement party with a beautiful smile. And everyone can see how stunning you look from the outside and how happy you are from the inside.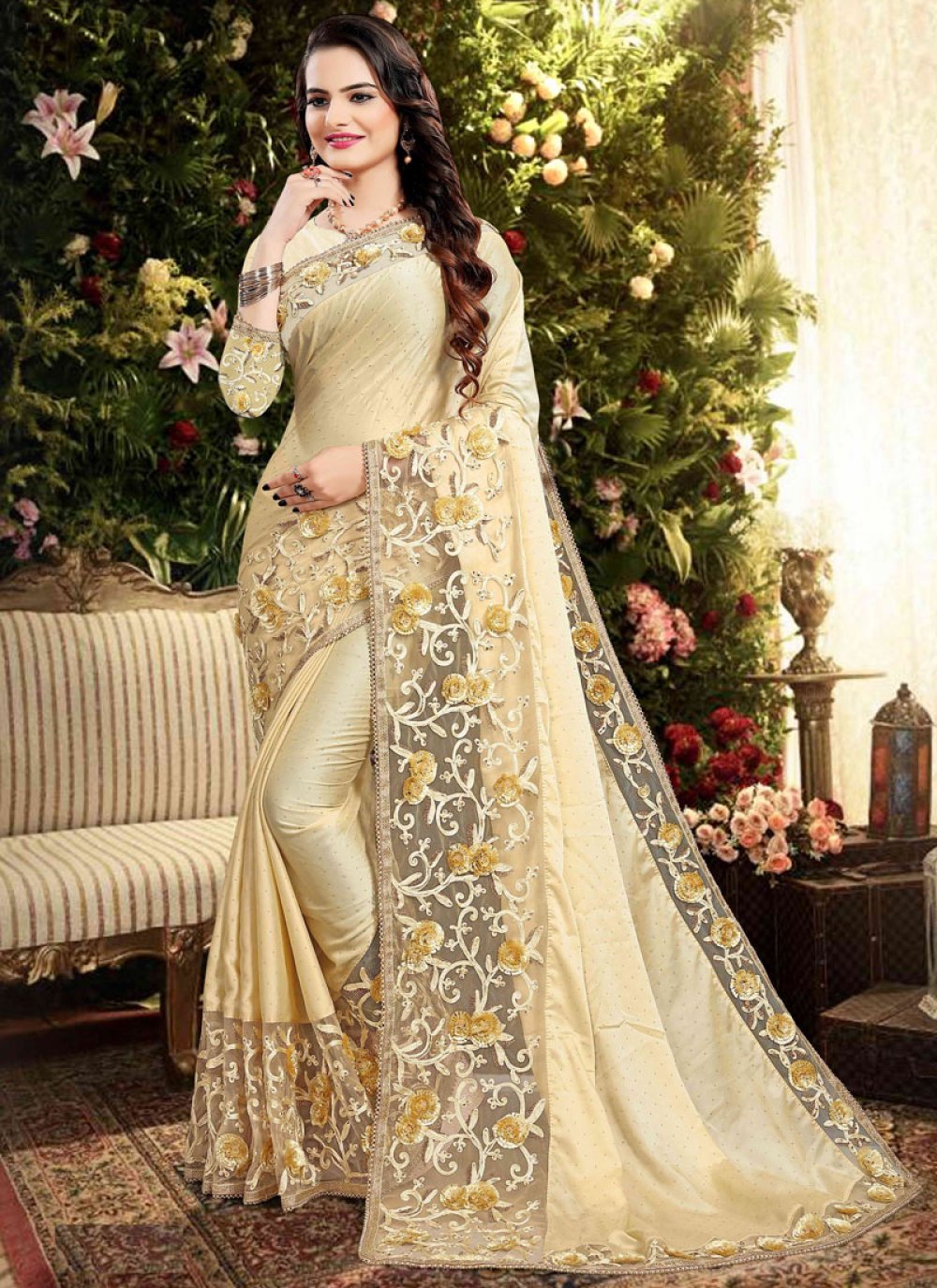 5. Dreamy Engagement Look with Sabyasachi Organza Sarees
Are you a fan of the Sabyasachi saree collections? And ever dream to wear those? Then Sabyasachi Organza sarees will be best for your bride to look. These stunning floral print semi-transparent sarees are eye soothing. And you add the final touch to your engagement look in sarees with this collection for engagement parties as well as a pre-wedding photoshoot.
6. Royal Bridal Look with Solid Colored Silk Sarees
Brides mostly pic red and pink sarees for their wedding night and reception party. So if you are planning to repeat those colors at your engagement party too, then we will give you another stunning option. Pick solid color silk sarees other than red and pink. If you are confused about saree for engagement latest colors, then pick these colors- royal blue, bottle green, purple, maroon, phirozi, etc. This color is quite uncommon for a general bridal look. With the saree's ideas, you can have the perfect engagement look that everyone will praise.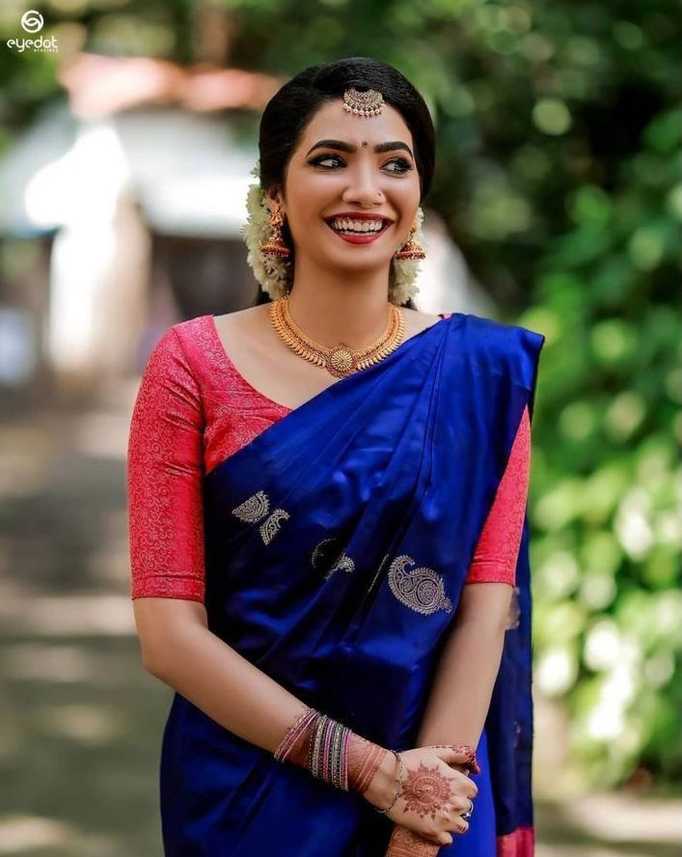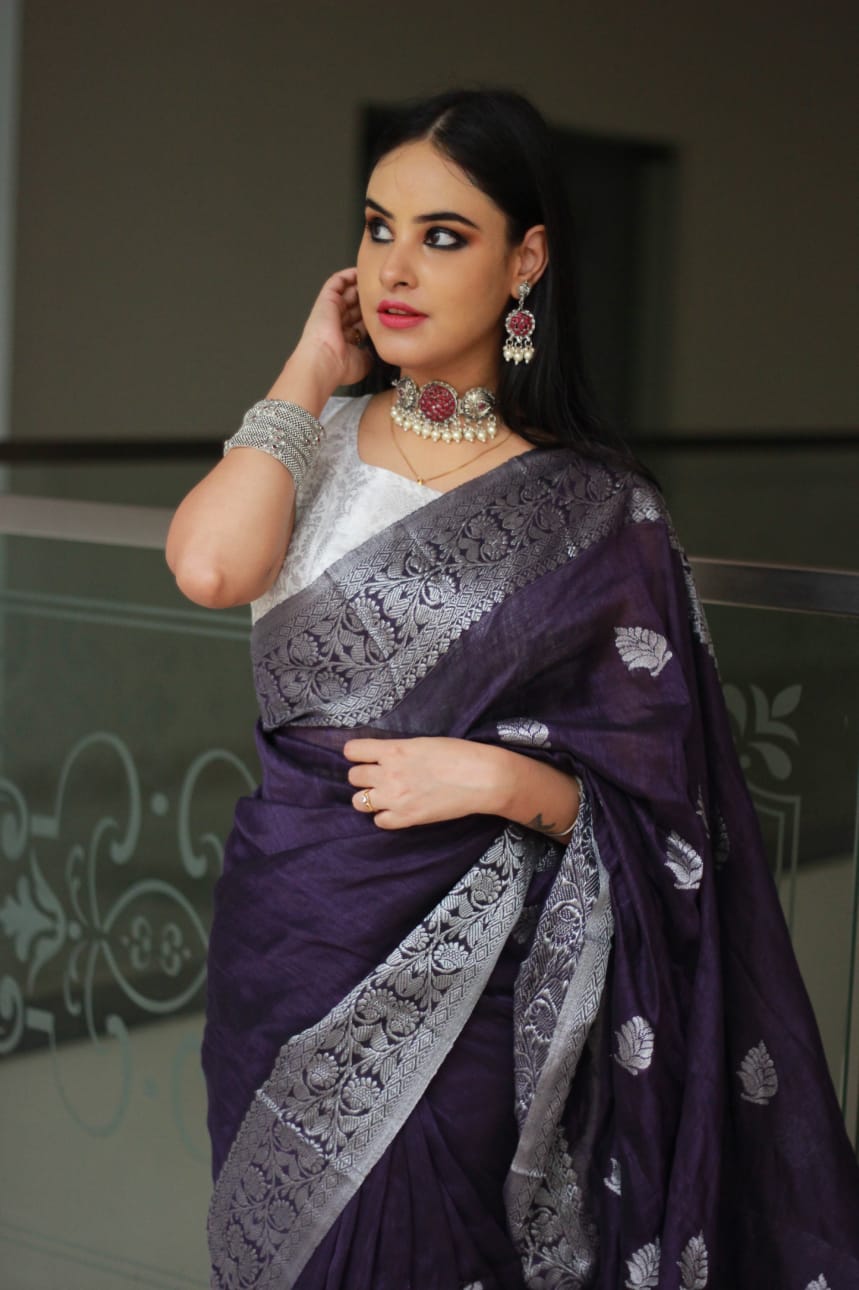 7. Minimalistic but Great Engagement Look with Pastel Shade Sarees
If you love a minimalistic look then we can give you several options of pastel shade sarees. There is no rule that at an engagement party you have to be the most gorgeous look. With these minimalistic but eye-catching styles, you can create a simple engagement look in a saree with class.  The light and soft pastel shades surely embrace your personality. Just see these sarees, you will surely love those.
8. Be a Gorgeous Nawabi Bride with Lakhnowi Chikankari Sarees
If you want an engagement saree idea for the bride but not with heavy Kanjiivaram or Banarasi saree then we have an idea for you. Lucknowi Chikankari sarees will add a Nawabi traditional touch to your engagement look. These sarees are too gorgeous and classy and will provide you stunning and jaw-dropping engagement look. Surely you will also be surprised after seeing you in these sarees. Light to dark all kinds of Shades are available in this collection. So just pick that perfect one and be the engagement bride with a Nawabi attitude.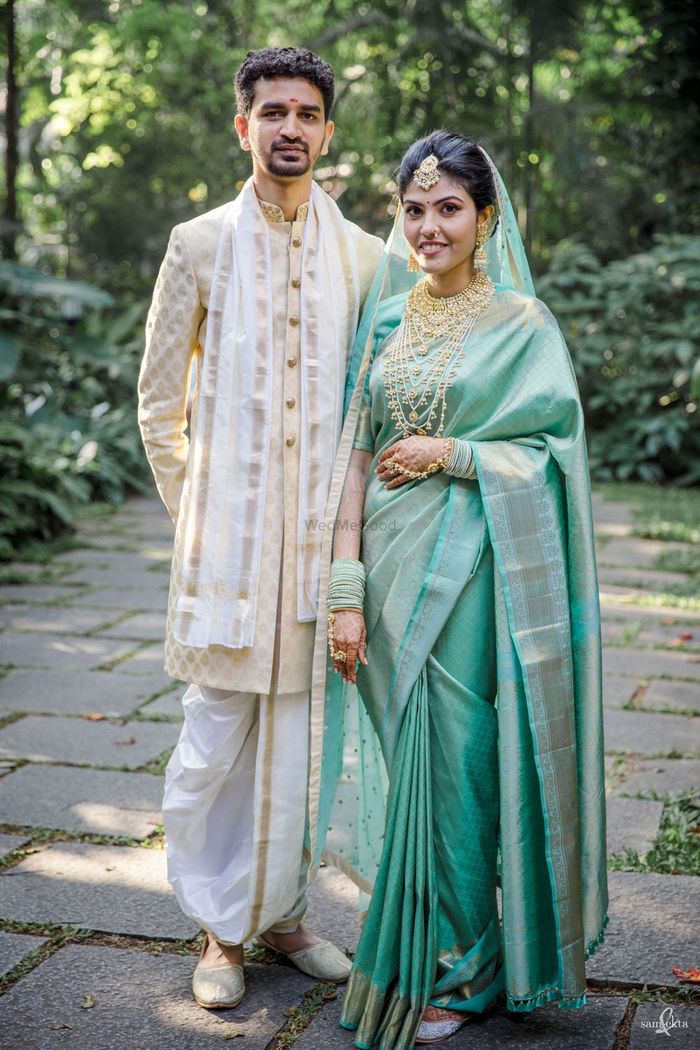 9. Latest Bollywood sarees for Engagement
No doubt from the Bollywood Cinemas we get most of the bridal look ideas. You can also create the large then-life Bollywood bridal look with our Bollywood sarees for engagement. Colorful sarees with work stone and pearl will provide you with the dreamy Bollywood bride look. You are the queen of your world, now going to be the heroine of your hero's life. So a Bollywood saree for your engagement will be the perfect first step towards your happy marriage life.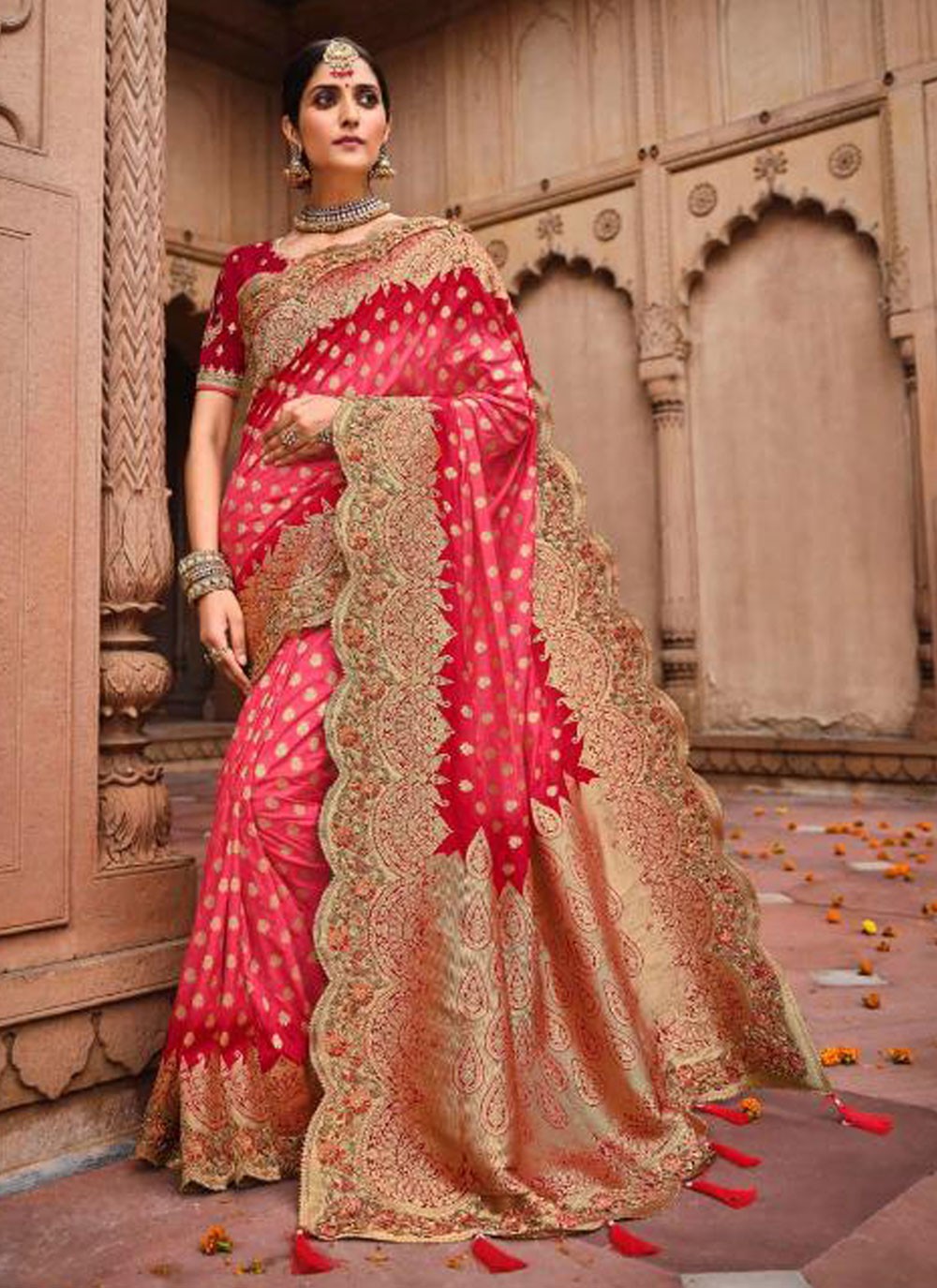 10. Classic red Sarees for your Engagement Party
Red is the symbolic color for the bride in Indian culture. If you love this color then we can show you your different red sarees that can bring you the perfect engagement bridal look. Lightweight red sarees with Zari work will give you a bridal look but different from your main wedding day. You can style the red sarees in both traditional and trendy modern ways to create your perfect engagement look. To create a traditional look with red sarees wear heavy jewelry. For a Classic modern look wear simple jewelry and smoky eye makeup with your red saree. Add a little magic to this look with a simple red rose on your hair. Now you are the perfect engagement bride to be with your red royal look.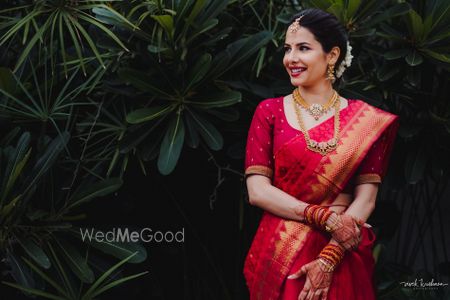 11. Be the Best Bride with Light but Bright Colored Engagement Sarees
Okay, you want a bright look but not so gorgeous sarees with too much work. Also do not want to wear pastel shades. Then look at these engagement saree ideas for bride. Sarees with lemon yellow, parrot green, neon green, and saffron are the perfect colors to create a light and bright engagement bride-to-be look. And the best part is you can mix and match the colors between your saree and blouse. It will provide you with a complete bright-to-be look that reflects your colorful side.
12. Get a Trendy Bridal Look with Ruffle Sarees
It will be wonderful if you pick this raffle saree idea and represent yourself as a stylish bride-to-be. Raffle sarees are lightweight so you can easily carry them. The layers of the saree add a certain charm that makes it stand out from the crowd. If you choose a raffle saree for your dream engagement look then you will never disappoint in your decision.
13. Dual tone sarees will bring colors to your engagement look
Instead of one basic shade, you can pick dual-tone sarees for your engagement look. The sarees have a mixture of two compatible color shades. The shades are too different in every sarees. You can have a combination of two different light colors, two different dark colors, or two different light and dark colors. Those are simply gorgeous and will embrace your joyful personality. If you want a colorful bridal look for your engagement party then these sarees are just ideal.
So, beautiful friends, if you are a bright to-be, then hope this article provides you with quiet help. Do not be tense keep smiling as everything will be fine. Just pick your favourite saree idea for your special lifetime event- the engagement party. Surely you will be the most beautiful engagement bride that everyone dreams of.
See Also – 
Womens Party Wear Sarees Price
Sabyasachi Bridal Lehenga Collection
Flipkart Cotton Sarees Below