Foundations are one of the most essential fact factors of both daily and party makeup. This article will give you a recommendation of several good foundations at a pocket-friendly price. Let's check this out. If you are looking for the best s and cheap foundation, read the article. Here you will find a suggestion for foundation price under 100.
Best Foundation Under 100 for Daily Use
Blue Heaven Get Bright Liquid Foundation
Bleu Heaven is another trusted beauty brand in India. This Indian beauty brand always thinks about both town Indian beauty and their small budget. This is one of the best foundations under 100. Blue Heaven Get a bright foundation to enrich with the goodness of Vitamin-E and Aloe Vera. The lightweight waterproof formula makes the skin a little lighter and reduces natural oil or sebum from your face. This Blue Heaven foundation under 100 rupees can be the perfect partner for party makeup. The natural color of this foundation suits every fair to dusky skin tone. Price ranges from 60ml pack 80 to 90 rupees on both online websites and beauty shops.
Lakme 9 To 5 Complexion Care Foundation
Lakme is an Indian cosmetic brand which offers wide verity of makeup and beauty product for womens. This Complexion Care Face CC Cream for Dark Spot and Blemishes. This Lakme Foundation SPF30 Avail in 9 G. Its benificial for moisturizing skin and uses in dark spots & brightening. Dry skin women can use this foundation. This Lakme Foundation under 100 rupees gives smooth coverage and lighten skin. Lakme 9 To 5 CC protect your skin from the sun with SPF30 and PA++. If you are looking for a Lakme foundation price under 100, then buy this CC at 99 rs online.
Elle 18 Lasting glow Liquid Foundation
Elle 18 is the only Indian beauty brand that launches good quality beauty products that range from 50 to 100. As most of the girls mainly do make-up to attend any function, That is why no need to buy expensive make-up as it will be a total wastage. Elle 18 products are pocket friendly and also never compromise with quality. No doubt the lasting glow liquid foundation of Elle 18 is the of the popular liquid foundations under 100 rupees. Water-resistant, long-lasting, lightweight, and goodness of Vitamin-E add a natural glow to the skin.  If you are looking for a foundation under 100 free delivery facility then buy this Elle 18 foundation under 100 rs.
Blue Heaven All-in-one foundation pancake
The liquid foundation needs proper blending then you will get the proper result. But the fact is not everyone comfortable with blending liquid foundation in a hurry. If you can not blend foundation then Foundation powder will be the best for you. Here is the recommendation for good Foundation powder. This is easy to blend on the face with a help of a brush or beauty blender.  If you ask which is the good Foundation powder price under 100 then the answer is Blue Heaven All-in-one Foundation pancake. Blue Heaven is the only Indian beauty brand having different beauty products from the high range to the lower price range. The price of 16 grams of this Foundation pancake is 72 rupees. This powdery formula is easy to apply and provides full coverage with oil control that lasts all day. The Matte finish formula brings in a lighter natural-looking skin tone. Your skin will feel velvet and dreamy.
Joy ultra-look makeup foundation
If you ask why to use Joy then its features are the answers. This Indian company always launches the best but most affordable products for Indian beauties. This is a unique foundation that suits every skin type. The small application provides coverage for 5 to 6 hours. This liquid foundation is non-sticky and gives a brighter but natural look. The lightweight liquid formula of this foundation is waterproof, transfer-proof, and also includes SPF 25 PA++ sun protection. This Joy foundation Under 100 Rs. will suit both cool tones and warm skin tones. The Price of a 30ml pack ranges around 70 rupees in both offline and online markets.
Fit-me foundations
You may think that low-priced foundations will not be up to the mark. Then here is a recommendation for you. Lecherous is an Indian beauty brand and Fit-me foundations can compete with any foreign beauty brand. Fit-me foundations are too popular as they really fit every skin tone of Indian women. This weightless Fit-me foundation is perfect for office hours as well as parties. This extremely weightless, long-lasting, matte finish, and creamy formula is too light that feels natural on the skin. This wonderful foundation is available in two shades Beige Vanilla and Rose Ivory. Mini pack (6g) price under 100 on both offline and online marketplaces.
FUFA La Pro HD Conceal Corrector
Have you ever heard about concealer? If not then know about the use. Foundation makes your face flat and chubby. You need to prominent the higher cheekbone, thin jawline, and also the nose. A dark shade of concealer help to highlight those areas and expressed your actual facial cut. Just like the foundation blend concealer with a brush. Now you want to know which concealer is good on a small budget. Then check FUFA la Pro HD concealer.
This is the best concealer in this price range. All varieties of the LA Pro HD concealer price under 100. You need to just apply it to the darker area of your face and blend. The beige color of this concealer will suit perfectly the fair and medium skin tone. The orange color of this concealer is for the medium-dark to dusky skin tone. This creamy formula will never look like heavy makeup on your face rather it provides a natural HD glow.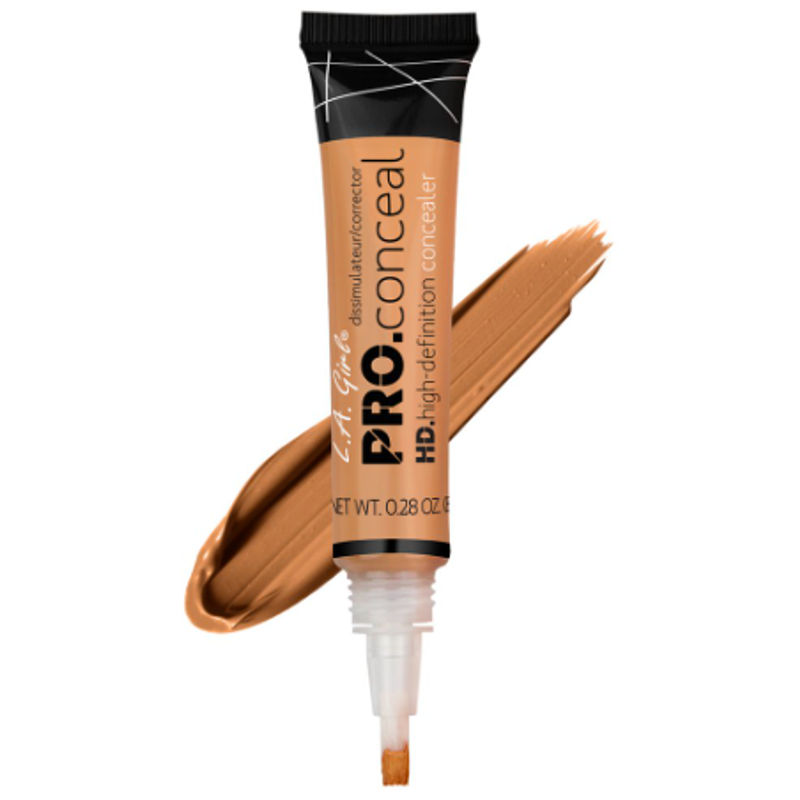 ADS white invisible Foundation
Okay, you are one of them who use foundation and make-up very often. And not so comfortable with foundation blending. That is why you avoid it but what if I give a solution to you? If you are looking for a foundation that blends properly and mixes with skin then see this. ADS foundation becomes invisible after application on the face. No one can find out about the secret of the natural no make-up look except you. This Foundation always gets a maximum vote in the category of foundation price under 50. This Foundation brings a brighter even tone to look to the application. This is a very good option if you use foundation very often.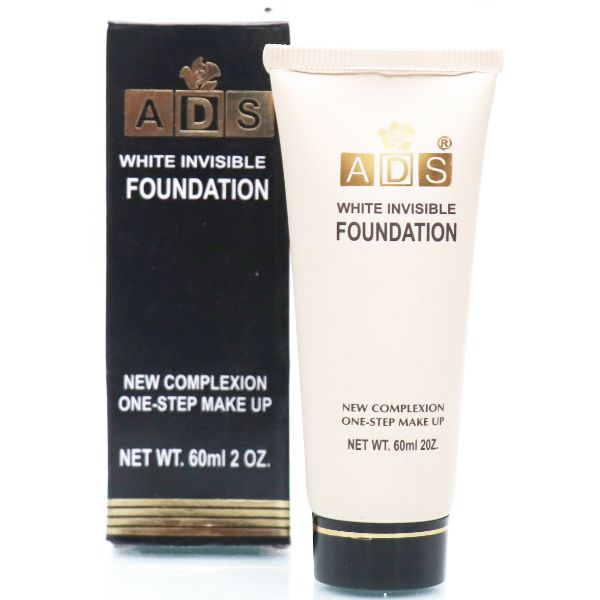 Foundations are the base of any kind of makeup. Simple party make-up to heavy bridal make-up is incomplete without foundation. All beauties are not shared the same interest in foundation and make-up. Some of them love makeup and some often use it. The above recommendation is for everyone are all are best.  These foundations are perfect for all kinds of skin types and skin tones of Indian beauties. If you want an affordable but good-quality foundation then this article will surely help you.
How To Choose The Right Foundation Shade For Your Skin?
If you do not know how to use foundation to avoid make-up disaster then some tips for you.
Tip 1:
Measure your skin tone with a shade card and identify the correct tone.
Tip 2:
Choose foundation shade according to your skin tone. If you can not understand the foundation shade then it's okay. Apply foundation on your wrist then see if it matches or not.
Tip 3:
If the foundation does not match your skin, then it will look artificial. A natural look will come if the foundation matches the skin.
So, wonderful Indian beauties choose your preferable foundations from this recommendation. This foundation will embrace your natural beauty. Surely you will be the best diva everywhere.
List of Foundations Under 100 Rs.
| | |
| --- | --- |
| Foundation Under 100 | Price (Rs) |
| Blue Heaven Get Bright Liquid Foundation | 90 Rs |
| Lakme 9 To 5 Complexion CC Foundation | 99 Rs |
| Elle 18 Lasting glow Liquid Foundation | 100 Rs |
| Blue Heaven All-in-one foundation pancake | 72 Rs |
| Joy ultra-look makeup foundation | 70 Rs |
| Fit-me foundations | 100 Rs |
| FUFA La Pro HD Conceal Corrector | 100 Rs |
| ADS white invisible Foundation | 50 Rs |
FAQ – Foundations under 100
[sc_fs_multi_faq headline-0="h2″ question-0="What are the cheapest foundations?" answer-0="ADS white invisible Foundation and Elle 18 foundation are the cheapest Foundation." image-0="" headline-1="h2″ question-1="Which foundation is the best at a low price?" answer-1="Blue Heaven Hyper Matte Foundation is the best at a low price." image-1="" headline-2="h2″ question-2="How much does a Lakme foundation cost?" answer-2="It depends on which Lakme Foundation range you choose. Generally, the Lakme foundation's range starts from 99 and can be up to 500 rupees." image-2="" headline-3="h2″ question-3="What is the cost of foundation cream?" answer-3="There are several foundation creams from different beauty brands. The price generally ranges between 130 to 400 rupees." image-3="" count="4″ html="true" css_class=""]
See Also –