Durga Puja is the biggest event in West Bengal. The countdown for the best pandals in Kolkata 2022 has already begun. Durga Puja Festival of West Bengal is now on the world heritage award by UNESCO. Not only the Bengali people of West Bengal or India NRI Bengali people from different countries visit their homes to spend the amazing holiday with their families. People who cannot come to visit also celebrate Durga Puja in their way in a foreign environment.
The story behind the Durga Puja festivals is connected with the old mythology of India. In Indian Mythology, Goddess Durga is the source of ancient power or Adi Shakti, and Lord Ram worships her with 108 blue loti to gain the power to defeat Lord Ravana. From that time, Goddess Durga was worshipped by people during the autumn season. With the blessings of Goddess Durga, Lord Ram won the battle with Lord Ravana.
But the story behind Bengali Durga Puja is a little different. Goddess Durga is worshipped here and is loved as a daughter. Everyone becomes excited to welcome their daughter, who comes to her father's house with her children. The children of Devi Durga are Lord Ganesh, Lord Karthikeya, Goddess Lakshmi, and Goddess Sarasvati. She stays only for 4 days in her father's house. After spending 4 days with her family, she returns to your husband's house, which means Kailash, the house of Lord Shiva. The first day of Durga Puja is mahashashthi and the returning day of Devi Durga is the Vijayadashami.
During Durga Puja Festival, Kolkata, the city of joy decorates itself with lots of lights and pandals that are made depending on several kinds of themes. If you want to visit and experience the vives of the Durga Puja Festival, then you should make full proof of planning. Otherwise, you cannot make it within one or two days.
Here we are giving you the top 10 Kolkata Durga Puja pandal 2022 suggestions that should be on your bucket list that you should visit once in a lifetime, together with the amazing experience of Bengali's best festival.
Top 10 Best Kolkata Durga Puja Pandals 2022 List
That everyone should visit. If you search online for as best Durga puja pandal near me, then we are pretty sure that the answer will match our suggestion.
North Kolkata puja pandals:
You can start your journey from North Kolkata. Either from Bagbazar or Sealdah and visit the top five Durga Puja pandals of North Kolkata.
Santosh Mitra Square Durga Puja pandal:
This is one of the best Durga Puja venues in North Kolkata. If you start your journey from the Sealdah then this is the first pandal you will visit. Santosh Mitra Square also known as Sealdha Durga puja pandal is hosting Durga Puja for more than 80 years and is one of the most popular Durga Puja pandals in Kolkata. This Durga Puja pandal became too much popular when decorating the theme based on the London Buckingham Palace in 2017. In 2022 Puja committee has committed to do something that can pull a huge crowd from the darkness spread by the pandemic situation. They are planning to decorate the idol of Goddess Durga in the traditional way to spread the festive mood without much experiment.
College Square Durga Puja pandal:
After visiting the Sealdah Durga Puja the next destination will be the College Square Durga Puja. This Durga Puja was established in 1948 in the square site on the bank of the lake near the Durga puja pandal of College Square. The amazing reflection of the entire College square pandal in college square lake is something that nobody wants to miss. This year this Durga Puja will celebrate its 76th year but due to the threat of pandemic organizers decided to keep the pandal simple and the main Durga Idol will be less than 10 feet. But the light and bright pandal reflection on the lake will be the same heart throbbing.
Bagbazar Durga Puja pandal:
This is one of the oldest Durga Puja venues nearest puja pandal of the Ganga river and is famous for the huge authentic Goddess Durga Idol according to the Bengali Durga Puja culture. The blue color Idol with long and beautiful eyes is the main attraction of the Bagbazar Durga Puja. A low-budget Durga puja pandal simple but amazing huge central light hanging from the ceiling completes the traditional vibes of Durga Puja. This is the most visited place on your North Kolkata Durga Puja list.
Hindustan Park Durga Puja pandal:
Approximately from 1932, this Durga Puja venue started to celebrate Durga Puja Utsav. This pandal always draws a large crowd during the Durga Puja Festival every year because of its gorgeous theme and represents them as one of the most beautiful Puja pandals in Kolkata full stop but due to the covid situation, they decided to keep it simple but will try to bring the authentic festive mood that will be truly delightful.
Kumartuli park Durga Puja pandal:
This venue is nearby the bagbazar Durga Puja. Kumartuli is not only famous for the making of the Durga Idol but Kumartuli Park is also famous for celebrating Durga Puja with amazing theme pandals. But due to the pandemic situation organizers also decide to keep the entire atmosphere simple but ideal for Durga Utsav.
South Kolkata puja pandal: 
Here is the South Kolkata Durga Puja list 2022. If you are new to this area then start visiting panels from Deshapriya Park. Gradually through the marking by Kolkata Traffic Police, you will reach several other amazing pandals easily.
Deshapriya Park Durga Puja pandal:
This is the place that you cannot miss during the Durga Utsav. This is one of the famous puja pandals in south Kolkata. This place is famous for its spectacular themes and impresses visitors every year. In 2015 organizers make the 88 feet Idol of Goddess Durga which won the Guinness Book of World Record title and was the largest in the world. This award makes it one of the height Durga Puja pandals in Kolkata. Obviously in 2022 their planning to have a blast with all precautions of the Covid 19 situation.
Ballygunge Cultural Association:
If you want to experience simple traditional Durga Puja then Ballygunge cultural Association pandal is the best in south Kolkata and you must visit it. The amazing vibes surely stunt you and make your head down in front of Goddess Durga. And with your closing Eyes, you will feel that your heart is full of blessings. In 2022 if you want to visit South Kolkata so please do not miss this famous Durga Puja pandal as their preparation is already started.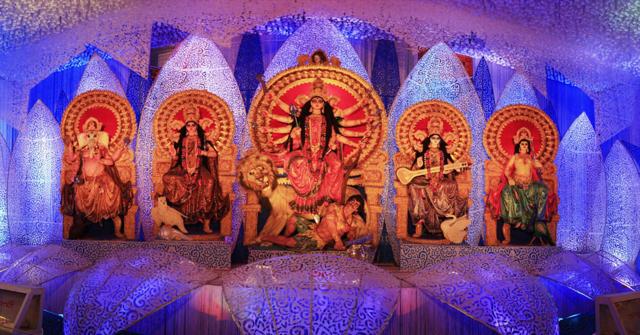 Ekdalia evergreen club Puja pandal:
A small distance from the Ballygunge culture is another famous Durga Puja Ekdalia evergreen. The uniqueness of this Durga Puja is they never change the structure of the Durga Idol and they always preserve their age-old Idol structure every year. This is one of the orthodox and traditional Durga Puja of south Kolkata that oath visiting every year because of its extremely amazing interior and exterior work on the pandal.
Tridhara sammilani puja pandal:
Near the Deshapriya Park and Ballygunge culture and others worth visiting. This Durga Puja pandal is famous for its amazing themes that draw more than 1lakh visitors every year. In 1947 this Durga Puja venue started its journey and always surprise every heater with its amazing themes. No doubt for 2022 they also planning something good.
Suruchi Sangha Puja pandal:
This is another famous Durga Puja pandal of south Kolkata and the disposal Pandal is celebrate Durga Utsav for over 50 years. Dis Puja pandal is also famous for its amazing themes that represent several matters associated with society and nature. Hopefully, for 2022 they also planning something new with all precautions to fight the pandemic situation.
After knowing about the famous places to visit during Durga Puja in Kolkata, you should know about the 2022 Durga Puja schedule so you can make a perfect plan with your friends or family.
1/10/22= mahashashthi
2/10/22= MahaSaptami
3/10/22= Mahaasthami
4/10/22= Mahanabami
5/10/22= vijayadashmi
A little suggestion that you should remember. Visit those pandals during night time. You will see the amazing lights and crazy crowd that will complete the Durga Puja vibes. Restart to make a plan today.
FAQ:
What is Durga Puja Pandal?
The bamboo structure with the decoration of colorful clothes and other decorative items is known as the Durga Puja pandal.
How many Durga puja are there in Kolkata?
Around 3000 Durga puja celebration in Kolkata.
Which puja is famous in Kolkata?
Durga Puja commonly known as Durga Utsav is famous in Kolkata.
How many puja pandals are there in Kolkata?
Around 2500 Durga Puja pandals are there in Kolkata.
Which place in Kolkata is famous for making the idols of Durga Puja?
Kumartuli in Kolkata is famous for making the idols of Durga Puja.
Is Kolkata famous for Durga Puja?
Yes, Kolkata is famous for Durga Puja and it has the title of world heritage by UNESCO.
How should a non- Kolkatalite start visit pandals?
Who wants to visit Pendle in Durga Utsav should start from Sealdah or either Deshapriya Park.
Which are the most interesting Durga Puja Pandals?
Tridhara, Santosh Mitra Square, and Deshapriya Park are the most interesting Durga Puja pandals.
What are the best places to visit in Kolkata during Durga Puja?
All Durga Puja pandals are amazing in Kolkata but Bagbazar, Santosh Mitra Square, College Square, Deshapriya Park, and Ballygunge cultural are the best.
See Also –

Famous event management companies in Kolkata