With the growing trends in the fashion industry, brides today aren't only opting for traditional blouses. Today, they are looking for something that is trendy and suits their wedding trousseau. There are a variety of patterns and designs that you can pair with your lehenga. In this blog, we have listed the top lehenga choli designs that you need to know about before you begin your lehenga choli online shopping. Keep on reading to find out more about these designs.
Latest Lehenga Choli Blouse Designs 2022
1. Broad shoulder-deep neck blouse
Women who have a slim body should go for this neckline style. With broad shoulders and a deep neckline, this blouse would give you a full look. The broad shoulder blouses are perfect for wedding occasions such as mehndi or sangeet. These are also referred to as boat neckline blouses.
2. Deep U-neck blouse
The deep U-neckline blouses are a classic for a long time. They give complete space to the neck and collar bones. This way, it gives a lot of space for statement neckpieces. Be it a choker or maharani necklace, such a type of blouse would help you in showing it beautifully.
3. Decorative Lace Blouse
The lace-style decorative blouses are a trend among brides. They use laces and beautiful designs on the blouse to give you an amazing look. You can also embellish such blouses with color beads and embroideries. These are a perfect choice for a mehndi function.
4. Embellished Blouses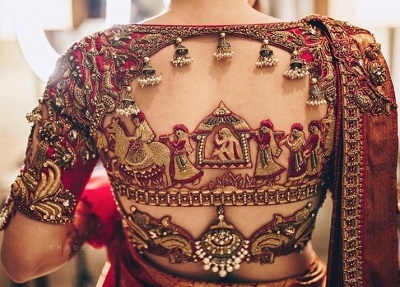 Decorating a blouse with stones or tassels is sure to give them a heavy look and this is a big trend this season. You can get your blouse adorned with beautiful beads, stones, strings, mirrors, tassels, kat-Danas, sequins, etc.
5. Off-shoulder Blouse
These days many brides are opting for off-shoulder blouses for their dresses. For slim brides, variations such as drop-shoulders or tubular silhouettes are a good addition. One can easily pair them with an off-shoulder blouse along with the wedding or reception lehenga. This style is perfect for women who want a bold look.
6. Frill sleeves Choli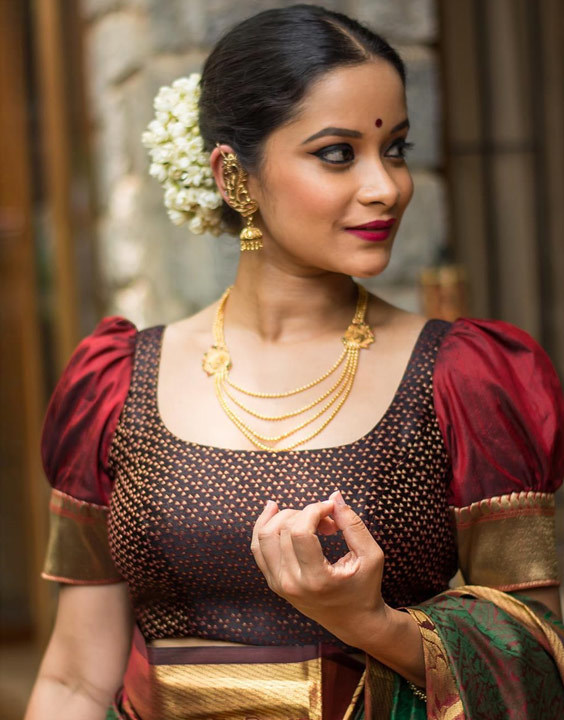 Ruffles and frills have become a big trend in recent times. These have even extended to blouses. One can go for heavy or light frills on the blouse sleeve. Frills can be easily added in different designs to give a more feminine look.
7. Puffed Sleeves Choli
Such types of blouses are suitable for women who want to go for a sleeveless blouse but want to hide their curves at the same time. Generally, puffy sleeves made from sheer fabric make a great combination. This hides any flaws in the arms and adds a sweet look to them. One can even volumize them as per wish.
8. Round High Neck Blouses
This style is popular among Bollywood celebrities. With a high neck blouse, one doesn't need to wear neckpieces as the blouse has a self-design around the collar bones. In case you are opting for such a look, you can pair it with choker pieces. This style is suitable for girls with a tall neck.
9. Cape style Blouse
One of the most feminine styles that you would come across while lehenga choli online shopping is the cape style. This style can be worn with any type of lehengas. You can try them with a mermaid or a sleek lehenga for a balanced look.
10. Corset Blouse Style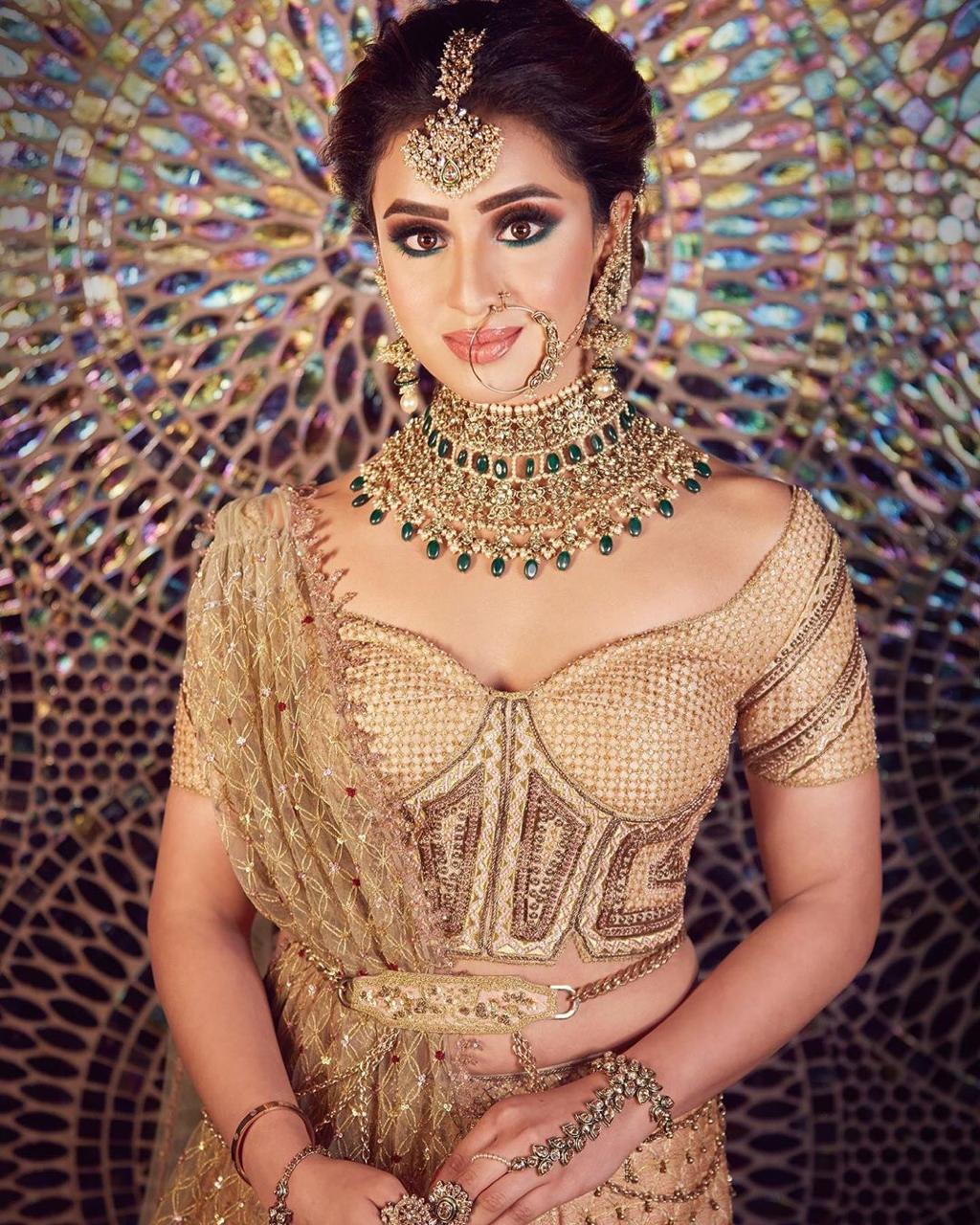 The Corset blouse style is back in trend with many influencers and celebrities trying it out to flaunt their fitness. Thus, the girls or women who have great abs and a good upper body physique should go for this style. The Corset blouse style keeps the waist and bust area in good shape. It enhances the empire lines as well as bust lines gracefully.
11. Sweetheart Neckline Choli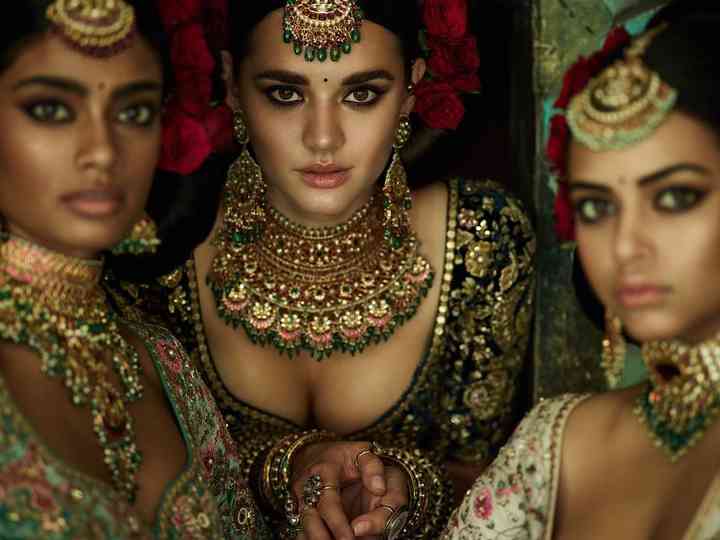 Another ideal style of blouses to choose while doing lehenga choli online shopping is the sweetheart neckline. The neckline of this style is inspired by a maharani blouse style. It draws a heart shape around the bust line. This is a must-try neckline for the brides-to-be. It gives the blouse a full look and a full feminine look to the wearer. Also, there is enough space for adorning heavy necklaces.
12. Full Sleeved Blouse
The blouses that cover the upper body completely are inspired by the vintage queen style. Such a style gives a royal feel along with a touch of sophistication to the lehenga. The less revealing blouse styles are good for heavy or plus-sized girls as it hides all the flaws.
Conclusion
The above are the most trending styles of blouses in the market today. You can choose any one of them while doing your lehenga choli online shopping as all of them are sure to give you an amazing look.