The best fashion parade for Bengali people is the Durga Puja Festival. The craze of Durga Puja shopping starts from 2 to 3 months before of Durga Puja festival. Several famous fashion houses launch new trends for every Bong people for their special occasion. This article is about Durga Puja Dress For Couple – Best Outfit Ideas for Durga Puja.
If you are planning to have a blast in 2022, Durga Puja, so starts shopping now. Festival outfits are a little tough to select. And when the festival is Durga Puja, they now have to choose outfits that bring an exotic but traditional look to you. You have a separate plan with your family, friends, and special ones. So here, you will get every idea about the Durga Puja fashion trends. Here we are giving you an idea of the best dress for each day of Durga puja. As Dress for Mahashashthi, Mahasaptami, Mahashtami, Mahanabami and Vijayadashami.
10 Outfits Ideas for each day of Durga Puja
Dress for Mahashashthi
Mahashashthi is the start of Durga Puja and you may start Pandal hopping at night. But you will repeat it in your local pandals or residential puja pandal during the daytime.
Also read –
The idea for women:
Salwar Kurta for the day: For the mahashashthi morning, choose pastel shade cotton embroidery kurta. If you want to style the kurta with a long skirt, then pair it with a short-length kurta. You can also wear leggings with a knee-length kurta. People ask often if they can wear a white dress for Pooja. Then the answer is yes. For night you can select embroidery kurta and pair it with embroidery Palazzo. If you are not comfortable with Palazzo, wear simple salwar that will look perfect and comfortable. You can wear your favourite coloured salwar and keep the jewellery and makeup simple.
The idea for men:
It is difficult to style a man as they don't have many options like women. For the mahashashthi look here are two options for them:
Casual t-shirt: for a simple time pass with friends and family make the morning look simple and casual. Normal-looking T-shirts and joggers will be good. It will make you more comfortable and lighten your mood.
Check shirt: for the night you can try a check shirt and pair the shirt with a dark colour Denim. A simple casual but handsome look will surely draw attention. Don't forget to wear a stylish wristwatch and one pair of black boots.
Dress for Mahasaptami
From the mahabaptami, the pandal hopping starts. So girl and boy keep the total look simple but stylish yet comfortable so you can run one pandal to another.
For women:
Jumpsuit: a jumpsuit is the most comfortable day outfit and you can style up with your choice. Simple bangles and neck pieces or simple wristwatch and minimal jewellery all are perfectly going with a trendy colourful jumpsuit. You can wear high heels or casual boots according to your comfort. Pick up the stress code for your morning look.
Western: give the western outfit a chance as Durga Puja style. A nice and sober-looking one-piece dress or dark colour day name with a nice top will be perfect for a Saptami outing with friends. You can style up your hair with a messy top knot or simply straighten the hair. Minimum makeup with trendy earrings will add charm to your look.
For men:
T-Shirt: for the morning you can choose a light colour t-shirt to eat a stylish cargo or dark colour Denim. One pair of simple sneakers and sunglasses will be enough to embrace your handsome personality. In the morning you will bear the heavy sunlight with these simple-looking outfits.
A simple jacket: if you are confused about the Night to Look then wear a simple white or beige t-shirt, and dark blue Denim. And last, add the main style quotient that is a black coloured simple jacket. Lightweight jackets will bring your charming personality. Don't forget to wear your stylish pair of boots and a digital wristwatch.
Dress for Mahashtami
This day is all about the traditional look. Both men and women have to be styled with a traditional dress for Durga puja. This is the best day that couples can reserve for their outing. If you have planned a couple of outings then obviously match your dress with each other.
For women:
Soft handloom saree: for the morning wear a lightweight but bright colour Handloom saree and match the blouse with the compatible colour. But never wet the same colour blouse that completely matches the saree. A simple bun with a white flower, small bindi and light lipstick will add the perfect bong girl look.
Trendy saree: at night create your Durga puja saree to look trendy saree. Sequence sarees or raffle sarees with the trendy stylish blouses will give you the perfect mahashtami night look. If you do not like to wear this kind of sarees then don't forget about the Sabyasachi organza sarees. Lightweight Sabyasachi sarees with floral print and boat neck blouse will simply make you the centre of the attraction.
For men:
Embroidery Kurta: you will wear bright coloured embroidery kurta as you are a Bong boy and this is the rule to wear a Kurta in mahashtami. Pair the colour of your kurta with the colour of your love on your saree and visit the pandal as the best couple. Casual shoes and an analogue but stylish wristwatch will perfectly suit you. Do not wear jeans with the kurta, wear pyjamas.
Kurta with jacket:  for a night you can wear a printed kurta with pyjamas but put a golden jacket over it. Put a nice brooch over the kurta. If you do not like to wear Golden then wear any simple light-coloured jacket but do not experiment with it. For your foot choose casual sandals and simple wrist watches will be the perfect partner for your handsome but traditional look.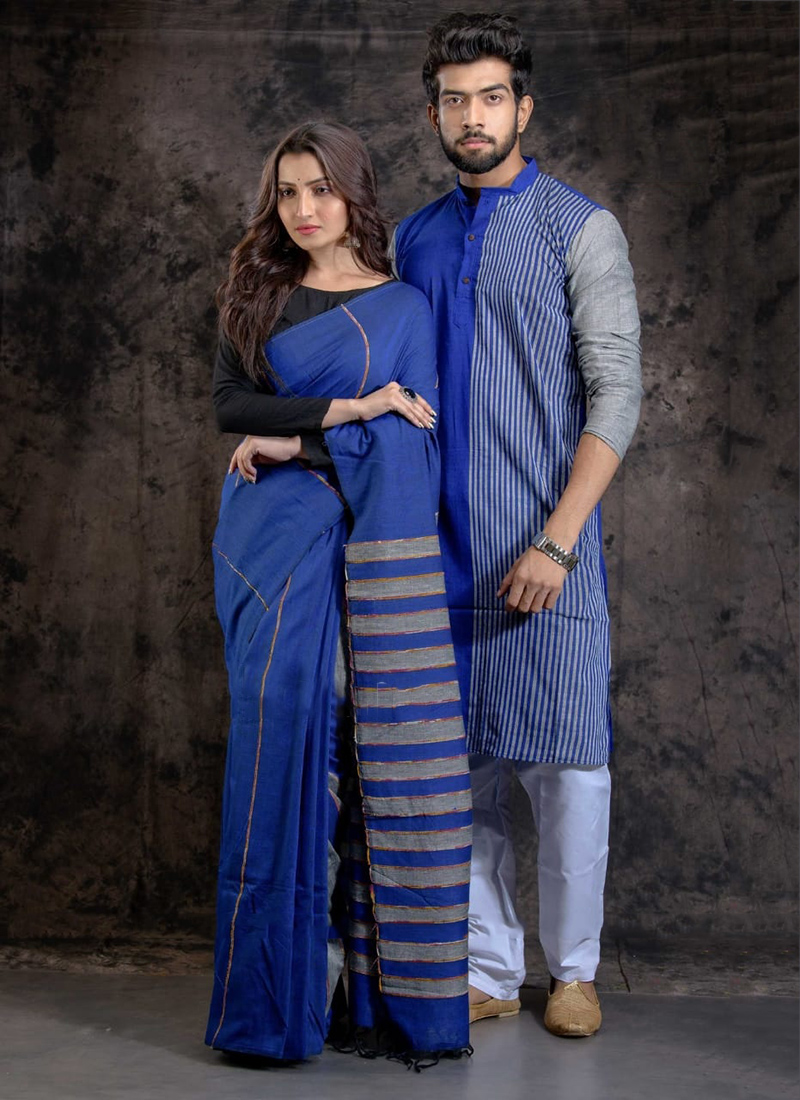 Dress for Mahanabami:
This day is the last day of Pandal hopping so you have to enjoy it to the fullest. You will feel sad that the Durga Puja festivals come to their end this year and you have to wait another 365 days. So style yourself with your best and most gorgeous dress in Nabami.
For women:
Simple A-line gown: Indo Western style a line kurta palazzo with a jacket will be perfect for the morning. Junk jewellery will perfectly suit your outfit. Style yourself according to your personality and choice don't follow any kind of style of other people. Bring your personality through your styling.
Gorgeous Anarkali: the night look should be a blast. Wear a dark colour gorgeous Anarkali gown. Curl your hair and wear a long earring and a gorgeous tone bracelet. Bright lips and smokey eyes will perfectly suit this outfit. Don't forget to smile as it is the best ornament that everyone can wear.
For men:
Simple pastel shade Punjabi: for the morning wear a simple pastel shade kurta with pyjama. It will give you comfortable look and also enhance your Durga Puja Vibes as it is the last day of Durga Utsav.
Dark coloured short kurta: for the Night Look you should choose dark colour short kurta like black, navy blue, wine and brown and pair it with black or blue Denim. Fold the sleeves of the kurta and wear a metal wristwatch. Steel colour or silver colour metal research will be good. If you like then can also choose a golden colour wristwatch.
Dress for Vijayadashami:
This is the day when our Goddess Durga will return to your husband's house Kailash after spending an amazing day with us. With a heavy heart, every Bengali will be prepared to say to her that please come again next year. So for Vijayadashami enjoy your last festive mood.
For women:
White red saree: if you ask which saree is the best for Durga Puja then the answer will be read and white saree. Morning wears white and red jamdani sarees for the last worship of Devi Durga. Both married and unmarried women can wear red and white saree. Simple makeup with red lips is the perfect look for Vijayadashami. Do not forget to wear golden Jewellery.
Simple A-line kurta: for the night you can wear a simple A-line kurta with leggings. It will suit you when you will go to the elders' house to take their blessings.
For men:
White-red kurta: for the morning wear a white red kurta that matches your Bong lady. You can wear a dhoti instead of a pyjama if you like.
Simple casual: for the night when you will go to visit elders' house for their blessings you can wear simple casual wear according to your comfort. Simple dark colour cargo where do it short kurta or t-shirt and a black wrist watch will complete your last Durga Puja look.
So, here best look for Durga Puja festivals for both men and women. Hopefully, you get the idea about what to wear for Durga Puja. So, what are you waiting for start your Durga Puja shopping now? Wear your favourite colours and outfits every day and don't forget to post all the photos on Instagram stories.
FAQ:
What to wear for Durga Puja?
For Durga Puja Bengali traditional saree and dhoti kurta is the best.
What should I wear in Durga Puja?
White and red jamdani saree is the main traditional dress code that you should wear Durga Puja.
Which saree is best for Durga Puja?
If you ask then white and red combined Taser silk or jamdani sarees will be best for Durga Puja.
Can we wear white dress for Pooja?
Obviously, you can. For morning or any night out in Durga Puja you can wear white dress.
See Also – 
Top 10 Best Pandals To Visit Durga Puja In Kolkata
Latest Artificial Mangalsutra Designs
Latest Manish Malhotra Wedding Lehenga