India is the most culturally rich country in the world. People celebrate several types of festivals throughout the year. One of the biggest festivals in India is Durga Puja which is also famous as Navratri. Do you know all the common styles of celebrating Navratri and Durga Puja? What do you know about the history and several facts associated with it? You will surely be amazed after hearing all the associated historical facts and traditions that are deeply connected to the celebration of Durga Puja.
History of Navratri in India
From this part of this Durga puja article, you will know why Durga puja is celebrated. According to Indian mythology, the history of Durga Puja is related to Ramayana. To save Devi Sita, Lord Ram was going to fight against Lord Ravan the king of Sri Lanka. During the war when the troops of Lord Ram became devastatingly injured by the destructive nature of the soldiers of Lord Ravan, then to save his innocent monkey (banner) troops he started oh she to the Adi Shakti. Aadishakti is the Devi Durga who has the ancient power among other goddesses. Lord Ram started to worship her for blessings with 108 blue loti.
To distract Lord Ram from the worship of Devi Durga, Lord Ravan instructed one of his Soldiers to hide one lotus. Without 108 loti, the worship cannot be full field. Wind Lord Ram found that one Blue Lotus is missing pain. He became ready to sacrifice his eye as it was also blue. But before he going to sacrifice his eye, Devi Durga came and said to Lord Ram that she was impressed with the devotion of Lord Ram as it comes directly from his heart.
When she asks Lord Ram about the motivation of prayer, then Lord Ram asks only her blessings to defeat Lord Ravan. After gaining the blessing of Devi Durga Lord Ram and his banner troops continue the fight against Lord Ravan for nine days and at last Lord Ram defeats Lord Ravan and releases Devi Sita from his prisons. From that day, Devi Durga is worshipped by all others for nine days which is known as the Navratri festival all over India.
History Durga puja in West Bengal
The story of Durga Puja in West Bengal carries different from the Navratri concept. According to West Bengal cultural mythology, Devi Durga was worshipped by all gods to defeat Mahishasur. Mahishasur was a king of the Rakshas Kingdom who was a devotee of Lord Brahma. To get the blessings of immortality from the lord Brahma, he started worshipping by following a very tough process.
When he succeeds to impress Lord Brahma and ask immortality as a blessing. Mahishasura asks Lord Brahma that he wants blessings where no man, no animal can kill him. Lord Brahma approved these terms and blessed him with immortality. After gaining the blessing from Lord, Brahma Mahishasur started doing everything he wanted. Mahishasur was an expert on Shapeshifting, which means he could shift his shape like any animal or any person. One day he shifts himself into a beautiful woman and starts disturbing a devoting Muni Rishi.
When the Muni Rishi found out about the mischievous behaviour of Mahishasur, he cursed Mahishasur that he would be defeated by a woman. After hearing that Mahishasur start laughing too much as all the Gods were men, and according to the blessing of Lord Brahma, none of them can kill him. Gradually Mahishasur win the fight with Lord Indra and captured the whole heaven. After losing heaven, all Gods, including Lord Indra, came to Lord Shiva, Lord Vishnu, and Lord Brahma to ask about the solution. All decided that it is time to ask for help from the Adi Shakti, the ancient power of the world's nature.
With all their power created Adi Shakti, better known as Devi Durga. Devi Durga challenged Mahishasur to a fight, but Mahishasur cannot imagine that a woman can challenge him. After the tough fight between the Devi and Mahishasur, he was defeated by Devi Durga and surrendered to her. He said at last that he was wrong as he believed that no woman can have the power to defeat him.
Traditions of Durga puja:
If you ask what Durga puja is celebrated in which state and how Durga puja is celebrated in India then the answers are given below:
Navratri India
If you search about Durga puja in English, you will mostly get the answer Navratri. Now you may ask where Durga puja is celebrated as Navratri. It is celebrated as a grand festival in the Northern and western states of India, where people worship Devi Durga for 9 days. Mostly in Uttar Pradesh, Himachal Pradesh, Uttarakhand, Delhi, Gujarat, Maharashtra, and other parts of India celebrate this festival.
From the first day, people start the pooja or worship from they want to day 9 with fasting and eating vegetarian food or Satvik Aahar. Every evening Devi Durga in her Temple worshipped with Aarti and 108 Diya or light. Every night of Navratri, people celebrate with several kinds of functions and cultural programs. Dandia is the famous folk dance of Gujarat performed by people during Navratri Nights. After 9 days, the Vijayadashami celebrate by people after burning the Idol of Lord Ravan, which is full of lots of firecrackers.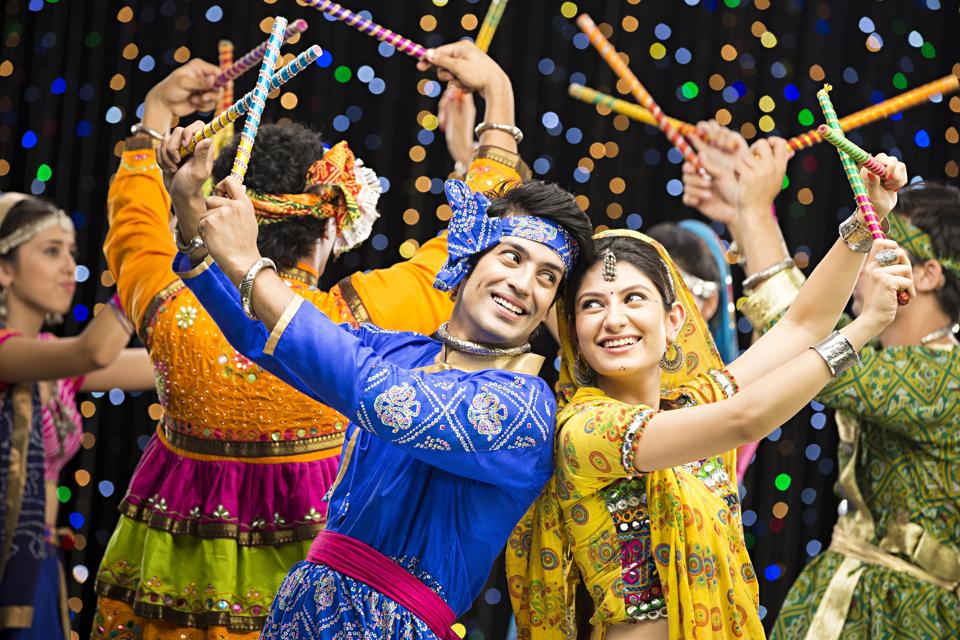 Durga puja in West Bengal
In West Bengal, the Durga puja festival and tradition are different from the Navratri. West Bengal celebrates four 4 days of Durga puja. According to the background history, Devi Durga in West Bengal is worshipped as Mahishasur Mardini, who defeat the Mahishasur. But Bengali people welcome Devi Durga as their beloved daughter who comes to spend 4 days in her father's house. Devi Durga is commonly called in West Bengal with a lovely name, Uma.
This name is given to her to show love from the members of her father's house. Uma every year comes with her children, Lord Ganesh, Devi Saraswati, Devi Lakshmi, and Lord Kartikeya. After 4 days, everyone's beloved Uma will return to her husband's home, which means in Kailash, the house of Lord Shiva. People of West Bengal spent this Grand holiday with family and friends and visited several pandals of different organizations that celebrate Durga Utsav.
NRI Bengalis come to their Nation only for the Durga Puja, and those who cannot come to celebrate this festival their way in a foreign land.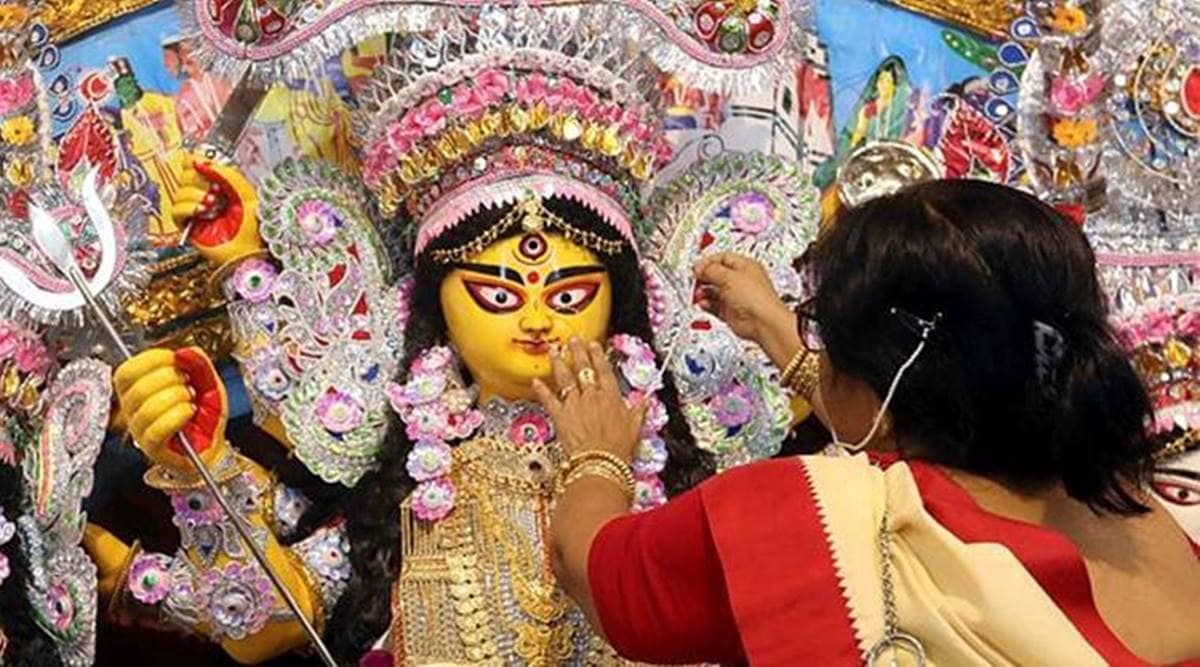 Facts of Durga Puja
Durga Puja West Bengal and Navratri have several facts and mythological background stories. Both West Bengal Durga Puja and Navratri have several facts included in the celebration. Let's check out those amazing facts and no the history behind them:
Mahalaya
This is the day when all gods, including Lord Shiva, Lord Vishnu, and Lord Brahma, created the Adi Shakti, the Devi Durga, to defeat Mahishasur. In Bengali culture, it is the day of starting Devi Paksha, and the people of West Bengal provide water and food to their dead family members for blessing. From the Mahalaya Final Countdown for Durga Puja began.
Navratri nights
Lord Ram continued his fight against Lord Ravan for nine days which is why people celebrate 9 days by worshipping Devi Durga. If you ask how many days of Durga puja in West Bengal, then the answer is only four days.
108 Lotus in Ashtami
Durga Ashtami or Maharashtra in both Bengali Durga Puja and Navratri carries different but common facts. In this Durga Ashtami, Lord Ram decided to sacrifice his one eye. That is why in Ashtami Puja 108 Lotus is necessary for both Navratri as well as West Bengal Durga Puja.
Sandhi Puja
It is part of Bengali Durga Puja and celebrates in the Maha Ashtami related to a fact of the fight between Devi Durga and Mahishasur. When Mahishasur could not defeat Devi, Durga turned himself into a buffalo or Mahesh. That Devi Durga cannot decide to kill an innocent buffalo and quit the fight for a moment. Sandhi is the contract of quitting a fight for a moment. All Gods light 108 Diya to provide the power to Durga to decide. In Navratri, people also like 108 Diya.
Singha Bahini
Lion is the bahan of Devi Durga, so her other name of her is Singha Bahini. Mahishasur turned himself into a buffalo and pretend to be innocent in front of the Durga to confuse her. Then the lion came and attacked the buffalo his Devi that this buffalo was Mahishasur, not an innocent one. Then Durga steps over her left foot on Mahishasur and defeats him with her Trishul.
Autumn season
If you ask, when is Durga puja celebrated? Then the answer is in Autumn means the time between September and October. People celebrate Durga puja in Autumn as Lord Ram worships Devi Durga at that time. Durga puja in Bengali is known as Sharadotsav or Shardiya as Sarath means Autumn.
The idol of Devi Durga
The idol of Devi Durga riding a lion is common for both Navratri and Durga Utsav. Devi Durga has 10 hands full of several weapons or Astra. When all gods created Devi Durga, they also gave her all their weapons as their support to her. Also, Lord Kuber gave jewellery and vastra to Devi Durga so that she could look beautiful with power.
Dress
In Navratri, according to the culture of north India, women wear lehenga choli. Bengali women wear traditional red and white sarees and other saree throughout the Durga Puja.
Vijayadashami
Bengali Durga Puja and Navratri both include this day. An Idol of Lord Ravan full of cracker burn as the win of Lord Ram. In West Bengal, everyone with their heavy heart says goodbye to their beloved Uma with sweet and indoors. After that Idol of Goddess Durga surrendered to the Ganga as Visarjan. Through the way of Ganga, Devi Durga returns to her husband's house.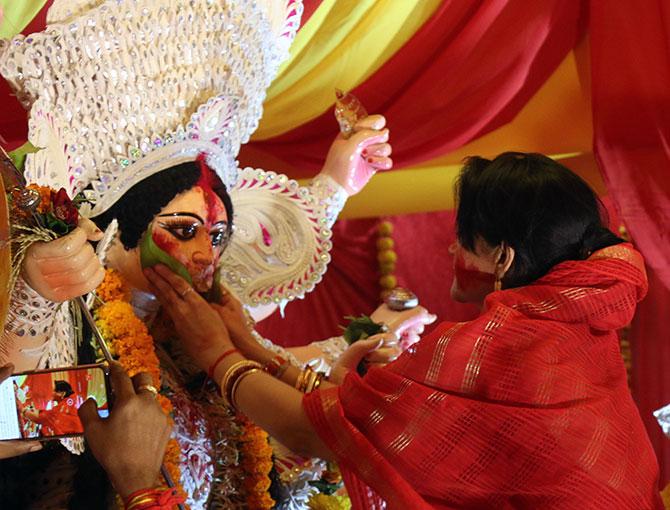 World Heritage
Durga Puja in West Bengal wins the title of World Heritage by UNESCO.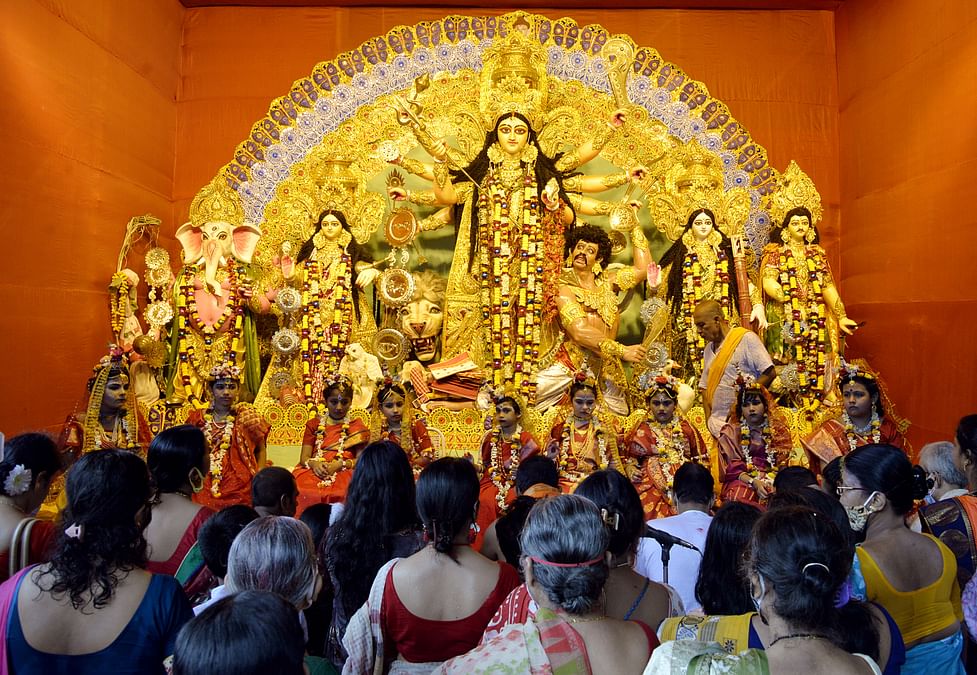 See how amazingly people celebrated the Durga Puja of India. Its history, facts, and traditions are really interesting. Durga puja is not a festival the celebration of women's power that can defeat every negative side of society as well as establish strength over anything. So, give support and strength with love for empowering the Durga in your house. Surely with your blessing and support, your little Durga will win everything.
See Also – 
Durga Puja Dress For Couple
Top 10 Best Pandals To Visit Durga Puja In Kolkata